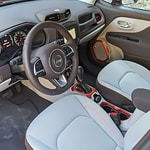 Have you ever wished you could see how much fuel was in your car without having to go outside and turn on your vehicle? With the Jeep Renegade, you can. Talk to an employee at Lithia Chrysler Dodge Jeep Ram of Corpus Christi today to learn more about how you can connect a Jeep Renegade to your Alexa device.
Once your vehicle is connected with Alexa, you can get information on your vehicle without ever leaving the house. Ask Alexa to check the fuel levels or send you the directions to that fancy restaurant in Corpus Christi, TX. You can even start your car without getting up from the couch.
This technology is pretty amazing, and it's just one of the ways that Jeep is committed to making your life easier. You probably already have an Alexa sitting around in your house. Why not put it to work and use it to make your daily commute a little easier?