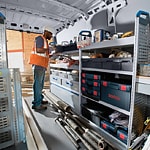 At Lithia Chrysler Dodge Jeep Ram of Corpus Christi, our team members work with business owners on a regular basis — we know that the right upfits can make a big difference. When you choose the RamProMaster, you'll have your choice of exceptional upfits to fit your everyday activities.
With the ProMaster, choose upfits by profession. The Plumbing Package, for example, contains a variety of shelves and compartments to organize all of your supplies. Keep pipe fittings in the handy accessory bins and load up extra piping and tubing on the built-in racks. Other options include HVAC, electrical, agricultural, construction, and more.
Are you working in a start-up or another business that requires flexibility? The Ram ProMaster comes with 17 standard tie-downs. Whether you're making a delivery or transporting construction supplies to a remote job site, it's a breeze to secure your load and ensure that all of your items arrive intact.