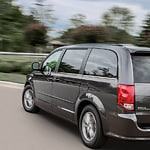 The Dodge Grand Caravan has a variety of interior and exterior features. Some of the features that the car has will help you and your passengers stay safe. Many accidents occur because people can't see while they are backing up their car. Fortunately, you can avoid an accident by using the Parkview Rear Back-Up Camera.
The camera has a wide-angle view. You will be able to see everything on your screen while you are backing up. The 2019 Dodge Grand Caravan also has active front-seat head restraints. This feature is designed to decrease the space between your head and the headrest.
This feature will greatly reduce the risk of neck, spine, and head injuries if you do get into a rear-end collision. You should test drive the Dodge Grand Caravan before you buy it. You can contact the dealership if you want to test drive the car.